Sales Agents
• Glenna Swiger • Joyce Dunn • Scott Link • Billy Zwiener • Carol Leonhard Williams • Mack King • Jessica Kuehn Dunlevy • Jocelyn Bucklew • Jesica Temple • Susan Casteel • Bonnie Armstrong
---
Glenna never thinks of her Real Estate career as "work". She would like to use her years of experience and her Commitment to Excellence to consult, counsel, and advise you regarding your Real Estate needs. Licensed in 1986 and Broker-Owner of CENTURY 21 At Your Service since 1992, she balances her love for the business and support to her Sales Assoicates with service to the Local and State Associations of REALTORS®. Recipient of the 'REALTOR of the Year" award on three occasions during her career. Glenna believes in Quality Service and the Golden Rule. She would be proud to serve you and will work hard to earn your business.
Phone: 304.296.2121 / Cellular: 304.216.2121
email:
gswiger21@aol.com
---

Joyce has had a career in real estate with CENTURY 21 At Your Service since 1991. As a longtime resident of Morgantown she has extensive knowledge of the area which makes her a value to both the buyers and sellers.

304-216-2122
Email: JoyceE6204@aol.com
---
Scott has been meeting the needs of buyers and sellers in North Central WV for more than 20 years. Always putting his clients first, whether they are buying or selling, common sense and truthfulness are hallmarks of Scott's service. An Associate Broker with GRI and ABR certifications, he has been recognized by the WV Association of REALTORS and Morgantown Board of REALTORS® for his service to the community and has served as a MBOR officer.
724-880-6567
Email:
Scottaaalink@icloud.com
---

Billy Zwiener's knowledge of computers and web design is sure to showcase your home just as you'd like with virtual tours, DVD presentation, and high quality photography. Houses don't stay on the market long if they're presented right and Billy's #1 priority is to present your home beautifully with the latest technology. Understanding how to market your home on the internet is a must these days and Billy knows how to get your home shown in top spots via that market. A graduate from West Virginia University and living in Morgantown for 25 years, he knows the area well and is geared toward finding the right place for you and your family to enjoy the area to its fullest.
Phone: 304.906.4328
Email:
Billy @ Morgantown Homes and Land.com
Website:
Morgantown WV Real Estate
---

Carol- A West Virginian by choice. She knows how hard selling and buying a home can be, and tries to make that process as easy as possible for clients. Carol's goal is to give quality caring service to all her clients so they can enjoy the area to its fullest.
Phone: 304-290-0448
Email:
movingtomorgantown@hotmail.com
---

Mack King - With a love for anything involving homes, it was only natural that Mack would choose Real Estate. A small business owner for over 20 years, he has developed patience and listening skills that serve the real estate industry well while making the clients experience comfortable and satisfying. As a lifelong resident of the area, Mack has an understanding of the communities and people that will benefit him in finding the perfect fit for you and your family.
Phone: 304-288-2742
Email:
mackkingcentury21@gmail.com
---

Jessica is a native West Virginian. She graduated from WVU and has remained here to raise her 2 sons. Working for many years in her family's jewelry business, she now devotes her time to a flourishing career in Real Estate. In addition to serving the communities real estate needs, Jessica gives back to the state she loves by serving as a Chairperson of the Morgantown Salvation Army Advisory Board of Directors, as a director of Morgantown Board of Realtors Board of Directors and member of the MBOR Community Service Committee. Her lifetime knowledge of the local schools, government, community services and events enhances your home buying and selling experience. She listens to your needs and works with you to provide the personally tailored real estate experience you deserve.
Phone 304-376-3200
Email:
kuehnjessica@gmail.com
---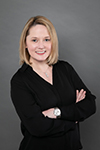 Jocelyn is a Morgantown native. She graduated from WVU with master's degrees in psychology and law. She worked in community health and emergency medicine as a trauma therapist, and has spent the last twelve years in the energy industry as a project manager. Ultimately, her experience with land negotiations, contracts, and acquisitions led her into the real estate market. Her knowledge of the local area, community resources, and development will help her clients with their buying and selling needs.
Cell: 1-(304)-319-1700
Email:
Jocelyn.Bucklew@yahoo.com
Linkedln:
https://www.linkedin.com/in/iocelyn-bucklew-07139566/
---

Jesica Temple- As a native of Southern California, I grew up experiencing housing insecurity as a reality for my family and thousands of others. As a Realtor, it is my goal to work with individuals and Families to ensure that everyone has a place to call home. Whether you are buying or selling, as your Realtor, I will be relentless in my work for you-no stone will go unturned- and I am backed by the proven Century 21 Team! What are you waiting for… let's get your home!
Cell: 1-(951)-732-6200
Email:
jesicat123@msn.com
---

Susan Casteel -I understand your home is more than just a place to live. It is a place where you make long lasting memories with your family and friends. Whether you are purchasing your first home or you are selling your home. I am here to help you. I value the trust my clients have placed in me and I will strive every day to exceed those expectations.
Phone: 304-594-8432
Email:
Casteel-casteel.susanrenee@gmail.com
---

Bonnie Armstrong - Buying or selling a house can be one of the most important decisions a person will ever make. I know after living in the same house and community for 60 years I found myself in that situation. I found an agent that walked me through this process. She was very caring, knowledgeable, and efficient. We stayed in touch and I had such a good experience I kept recommending her. I also helped my friends that were moving stage their homes and prepare them for sale. I found that I enjoyed helping others and was encouraged to pursue Real Estate as a second career. now have the privilege of working alongside my agent and friend at Century 21 'At Your Service'. I would love to help you navigate this process. I work with a team of very experienced agents but life has taught me that hard work and good communication is the best start to any relationship. In my 15 years nursing career, I cared for patients and their families. As a Real Estate agent I am bringing that same meticulous care and attention to families during their home buying or selling process. It would be my pleasure to serve you in your next home purchase or sale. Please call, email, or stop by the office anytime.
Phone: 304-657-0988
Email:
wvmeemee@gmail.com